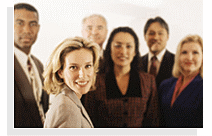 We represent a fresh take on executive search. Our firm practices Conscious RecruitingSM . Corporate talent search is our passion. Search is a serious business, but we have fun doing it! You will have fun with us, too! Don't dread your hiring process or looking for your next employer - let us be your corporate talent search partner!




Edwards Consulting Firm, Inc. (ECF), is a corporate talent search firm, based in Atlanta, Georgia. We are a generalist firm recruiting mid-to-senior level management with expertise in a wide range of industries, functional and diversity search assignments nationwide. Our suite of executive search and contract services meets the business needs and position requirements of client partners.

Are you looking for your next employer? Then develop a relationship with us that lasts beyond just one search, but across the span of your career. We are not interested in placing you in a job. Our focus is listening to your needs to ensure that we create win-win solutions for both you and our client companies.